WWW Wednesday is a weekly meme, hosted by Sam from Taking on a World of Words.
The Three Ws are:
What are you currently reading?
What did you recently finish reading?
What do you think you'll read next?
---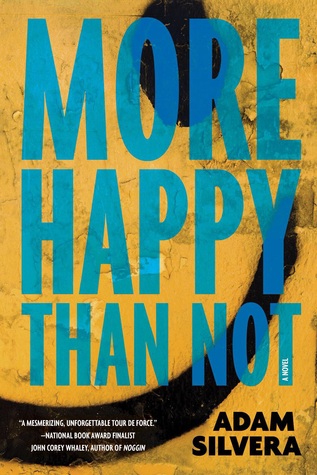 I'm currently reading More Happy Than Not
by Adam Silvera. I'm about 200 pages in, and holy crap, I just hit the good part. Up until this point, it's been surprisingly, I don't want to say boring because it wasn't boring, but it just hasn't really grabbed my attention. I'm also reading You Don't Have To Like Me by Alida Nugent, which I started a while back, and took a break from. It's a collection of essays, and holy crap do they make me think. I think my favorite so far, and definitely the one that made me think the most about myself, was Mutt.
I recently finished William Shakespeare's A Midsummer Night's Dream, which took me a while to read considering it's not very long. But I read it in preparation for The Candle Wasters webshow based off the play, Bright Summer Night, which just started, and I am SO EXCITED for. I also read two Kindle books for the Cram-a-thon readathon, which ended yesterday. I read Bryan Lee O'Malley's Scott Pilgrim Free Comic Book Day Story, and a short story by Kira Hawke called Stay With Me. The Scott Pilgrim comic is only a few pages, but it's really fun if you like the Scott Pilgrim comics. I wouldn't try to read it if you haven't read the actual series because it does take place between volumes 3 and 4, and nothing really, actually happens. But it's pretty funny and I liked it. Stay With Me is so good!! It's only eleven pages, I think, but holy crap. I curled up around my ipod and my heart was pounding as I read. It's about Logan, who just survived an attempted murder- maybe. It's from his point of view as someone finds him, and is trying to get him to stay awake as he is bleeding out. It's so good, and I want more of it. Like, I want to know more, so much more! But I also kind of love that we don't get to learn anymore.
If you're interested at all in webshows, or Shakespeare, or Shakespeare adaptions, or anything, there is the trailer. They have two other adaptions, Nothing Much To Do (based off Much Ado About Nothing) and its sequel, Lovely Little Losers (based off Love's Labor's Lost). I highly recommend everything done by The Candle Wasters, as they are fabulous and deserve all the love. 
 What I'll read next, I have no clue. I have a giant stack of books from past readathons that I didn't get to, and for future readathons that I'm getting ready for. Maybe Supreme Blue Rose by Warren Ellis and Tula Lotay, and The Princess Saves Herself in This One by Amanda Lovelace. Literally no idea.