WWW Wednesday is a weekly meme, hosted by Sam from Taking on a World of Words.
The Three Ws are:
What are you currently reading?
What did you recently finish reading?
What do you think you'll read next?
---
I am currently reading The Curious Incident of the Dog in the Night-Time by Mark Haddon and Fire Boy by Sami Shah.
I started both of them the last week of last year for Diversity December, but didn't manage to read much of them due to family and holiday stuff. The Curious Incident I'm reading slower than I thought I would, but I like how Christopher thinks and how he organizes his writing, and his reasoning behind things. And it is actually pretty intriguing, the mystery of who killed the dog, especially when you read it from the perspective of this gifted autisic boy. Fire Boy is pretty epic, I love how the mythology is tied in to the urban setting. I know a bit of some versions of the creatures in it, like djinns, but this is so much better than what little I had known about them.
I also just started The Melody of You and Me by Maria Hollis. I love every aspect of this story going in. It's a f/f romance, that takes place in a bookstore, with a pansexual main character (Pan rep!!) and a Filipino love interest. Like, yes, on all fronts, please. And there's a character with pink hair, which is awesome. And check out this aesthetic thing and this one on twitter, because they are how I learned about the book, and then I bought it… so, yeah.
My most recently finished book is A Hundred Thousand Words by Nyrae Dawn, which was great.
It's about Toby, a 20-year-old going to school in San Francisco, where he is no longer the only gay or black guy in town. He's back home for Winter break, and so is his best friends older brother, who was his dream guy growing up. They're both different, including the fact that Levi has realized he's bisexual. There's so much amazing in this book. There's stuff about the pressure and anxiety of being the person that you're expected be, when you know that that's not you anymore. It has abandonment and trust issues, and not knowing how to talk about things. There's great male friendships and parental relationships.
I really recommend this one. I also highly recommend Coffee Boy by Austin Chant, which I also recently finished. It's about Kieran, a feminine trans guy who starts interning at a campaign office. Soon the upside of working there becomes watching the strait-laced, humorless strategist Seth deal with his crush on their painfully straight boss. But it turns out that Seth is as supportive as he is prickly and Kieran forms his own painful crush on the most prim and proper guy who'd never reciprocate. My only complaint with this book is that it's only 100 pages. It was great, and you should check it out.
I'm pretty sure my next read will be Emily Danforth's The Miseducation of Cameron Post.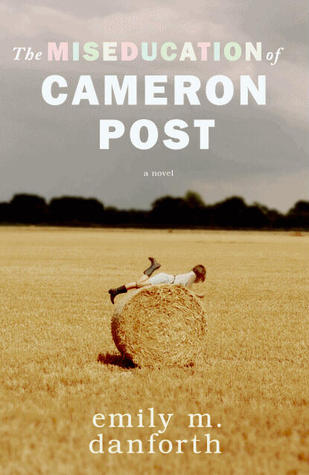 I've been meaning to read this one for so long. It's about Cameron Post, whose first thought when she learns that her parents have died is relief, because now they'll never know that hours earlier she had been kissing another girl. But that relief doesn't last long after she moves in with her conservative aunt and old-fashioned grandma. Survival means blending in, which she becomes an expert at. Then Coley Taylor moves into town, a perfect cowgirl with her pick-up truck and her perfect boyfriend. But they strike up an intense friendship with the possibility of it evolving into something more. But Cam's highly religious aunt takes drastic measures to 'fix' her.
I'm really in the mood for LGBTQIA+ books, if you couldn't tell. So that is what I'm reading. Because I'm feeling queer as shit lately. Actually that is probably why I'm reading Fire Boy and The Curious Incident slower that I would usually. I'm also working more and doing schoolwork more regularly, and so I'm trying to learn how to manage my time. Because since I dropped out of school a few years ago, and lost structured days, I haven't really bothered do to that. And I really need to. 2017 is the year I learn how to be a better adult. With finances and health and time managment, and maybe driving (even though that scares the crap out of me).