Diversity Spotlight Thursday is a weekly meme hosted by Aimal over at Bookshelves & Paperbacks. Every week, you come up with a book for each of three different categories: a diverse book you have read and enjoyed, a diverse book on your TBR, and one that has not yet been released. You can check out the announcement post for more information. And all the graphics are from Aimal, because they're awesome and I don't know how to make awesome ones on my own.
Since I want to be a more active blogger, I've decided to start doing more of these weekly posts. Diversity is really important to me, I love finding and reading diverse and #ownvoices books. They make me happy. So I am kicking off my (hopefully) more regular blogging with a diversity spotlight. Which, admittedly isn't off to a great start as I'm posting this a day late. Descriptions are all from Goodreads, and I'll put links for everything.
---
This Is Not a Love Story by Suki Fleet
When fifteen-year-old Romeo's mother leaves one day and doesn't return, he finds himself homeless and trying to survive on the streets. Mute and terrified, his silence makes him vulnerable, and one night he is beaten by a gang of other kids, only to be rescued by a boy who pledges to take care of him.
Julian is barely two years older than Romeo. A runaway from an abusive home, he has had to make some difficult choices and sells himself on the street to survive. Taking care of Romeo changes him, gives him a purpose in life, gives him hope, and he tries to be strong and keep his troubles with drugs behind him. But living as they do is slowly destroying him, and he begins to doubt he can be strong enough.
This is the story of their struggle to find a way off the streets and stay together at all costs. But when events threaten to tear them apart, it is Romeo who must find the strength within himself to help Julian (and not let their love story turn into a Shakespearean tragedy).
I'm kicking off this thing with one of my favorite books. I first read This Is Not a Love Story as a kindle book in 2015, and it was one of my top five books of the year. I loved it so much I actually went and spent $15 on a paperback edition just so I could actually hold it (and take pictures of it). I think the characters are so well written and real, you just want to hug them.
---
Annabel by Kathleen Winter
A #1 best seller in Canada, award-winning author Kathleen Winter's debut novel is an intimate portrait of the family of a mixed-gendered child born into a remote, blue-collar sea-side town in Eastern Canada.
In 1968, into the devastating, beautiful landscape of Labrador, a child is born: a baby who appears to be neither fully boy nor fully girl, but both at once. Only three people are privy to the secret–the baby's parents, Jacinta and Treadway, and their trusted neighbor and midwife, Thomasina. Though Treadway makes the difficult decision to raise the child as a boy named Wayne, the women continue to quietly nurture the boy's female side. And as Wayne grows into adulthood within the hypermasculine hunting society of his father, his shadow-self, a girl he thinks of as "Annabel", is never entirely extinguished.
When Wayne finally escapes the confines of his hometown and settles in St. John's, the anonymity of the city grants him the freedom to confront his dual identity. His ultimate choice will once again call into question the integrity and allegiance of those he loves most.
I've had this one on my shelf for a while, and I'm planning on reading it fairly soon. I've wanted to read a book with an intersex main character and I just think it will be really good. I'm really interested in that is takes place in the seventies and eighties. It's supposed to be one of those quiet, subtle stories and I like those.
---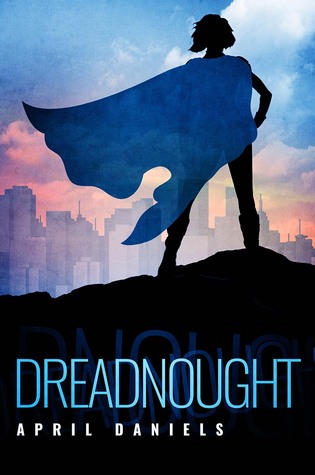 Dreadnought: Nemesis by April Daniels
Danny Tozer has a problem: she just inherited the powers of the world's greatest superhero. Until Dreadnought fell out of the sky and died right in front of her, she was trying to keep people from finding out she's transgender. But then her second-hand superpowers transformed her body into what she's always thought it should be. Now there's no hiding that she's a girl.
It should be the happiest time of her life, but between her father's dangerous obsession with curing her girlhood, her best friend suddenly acting like he's entitled to date her, and the classmate who is secretly a masked vigilante, Danny's first weeks living in a body that fits her are more difficult and complicated than she could have imagined.
She doesn't have much time to adjust. Dreadnought's murderer, a cyborg named Utopia, still haunts the streets of New Port City. If Danny can't sort through the confusion of coming out, master her powers, and stop Utopia in time, humanity faces extinction.
Seriously, how cool does this one sound? Superheros are one of my favorite things, and LGBTQIA+ anything is everything. So a trans superhero? Sign me the frick up. The parts about her dad and (possibly) her best friend sound like there will be some transphobic language, which sucks. But overall, I'm excited for this one.
This will be released January 24, 2017.
---